"Denmark is entering the world market for psychedelic drugs."
"as if The Beatles had reinvented themselves as a blues band in their psychedelic phase"
"a middle finger to the 'get a haircut and get a real job' generation"
The New Album
Eclipse by The Sonic Dawn (1. Feb. 2019)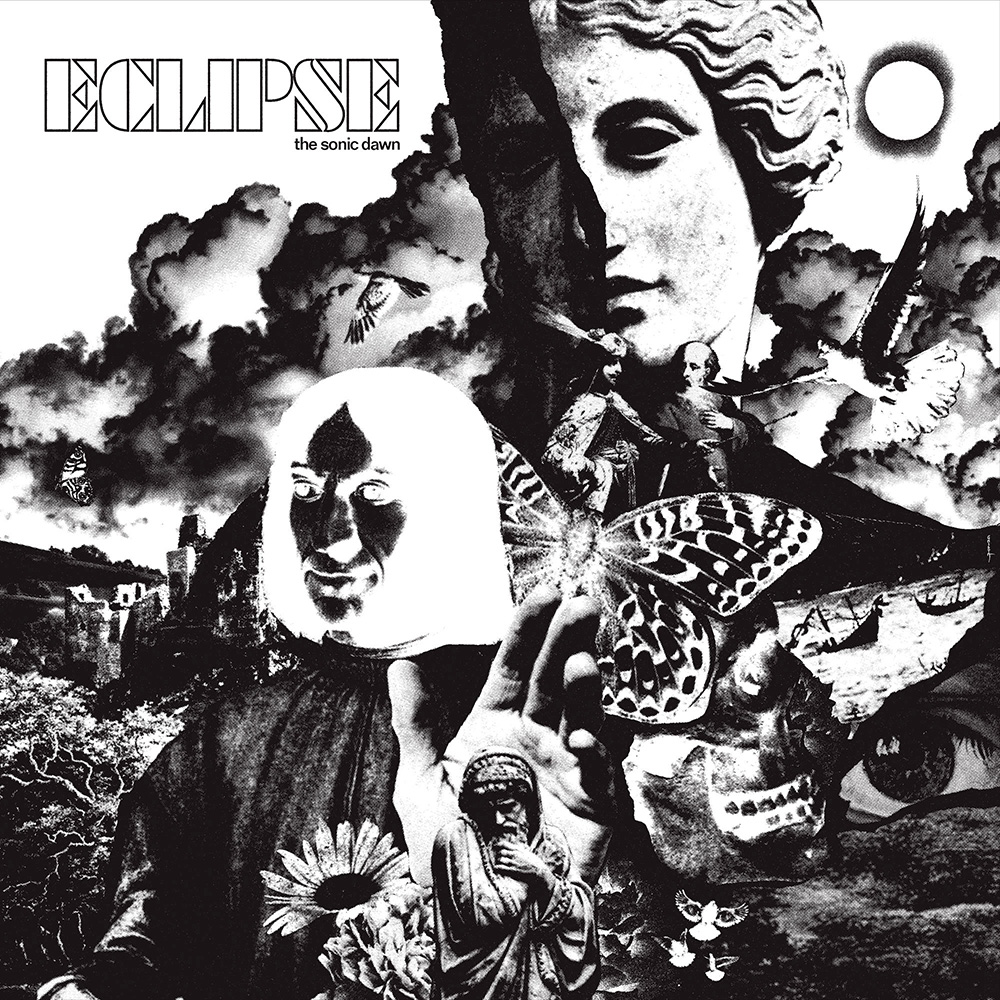 «ECLIPSE» coming Feb. 1st 2019 on Heavy Psych Sounds Records, is The Sonic Dawn's third full-length album. The music is more multicolored than ever – a journey out of the darkness. Some might say a trip.
The first album single, Forever 1969, featuring Uffe Lorenzen, is a statement that makes past and future collide (as The Obelisk put it). On the 50-year anniversary of Woodstock and the largest peace manifestations, the message that the power belongs to the people and that we can take it if we want it, seems as relevant as ever. In The Sonic Dawn's own words: Times may change, but the struggle remains the same.
The album boils down to 13 tracks in 38 minutes, at 33⅓ revolutions per minute, but Eclipse is by far the group's biggest work to date.
Bandcamp | Spotify | iTunes | Deezer | Google Play etc.
The Psychedelic Ranger
Album Single No. 2 off «ECLIPSE»
Video for Psychedelic Ranger, shot during The Sonic Dawn's 2018 European tour with Heavy Psych Sounds labelmate, Brant Bjork. More videos The Sonic Dawn's YouTube channel.
The Tour
2019 Album Tour
- DK - Copenhagen, Simpelt V (album reception)
- DE - Kiel, Schaubude
- DE - Leipzig, Moritzbastei
- DE - Munich, Import/Export
- AT - Salzburg, Rockhouse
- CZ - Bilina, Moskva
- DE - Dresden, Ostpol
- DE - Nürnberg, Z-Bau
- CZ - Prague, Kastan
- PL - Wroclaw, Firlej Club
- PL - Warsaw, Chmury
- AT - Graz, Music-House
- AT - Vienna, fluc
- HR - Zagreb, KSET
- IT - Udine, Backyardie
- IT - Cecina, Spazio Live Ritmi
- IT - Parma, Splinter
- IT - Castel d'Ario, l'Hostaria
- IT - Zerobranco, Altroquando
- IT - Erba, Centrale Rock
- CH - Olten, Coq d'Or
- DE - Frankfurt, Dreikönigskeller
- BE - Brussels, Magasin4 (HPS Fest)
- NL - Deventer, Het Burgerweeshuis (HPS Fest)
- DE - Göttingen, Dots
- DE - Düsseldorf, R25 Kulturschlachthof
- DE - Mannheim, Brandherd
- DE - Cologne, Sonic Ballroom
- DE - Tübingen, Münze 13
- DE - Hamburg, Hafenbahnhof
Sign up for the GOOD NEWS to know about concerts in your area.
The Band
Psychedelia from Copenhagen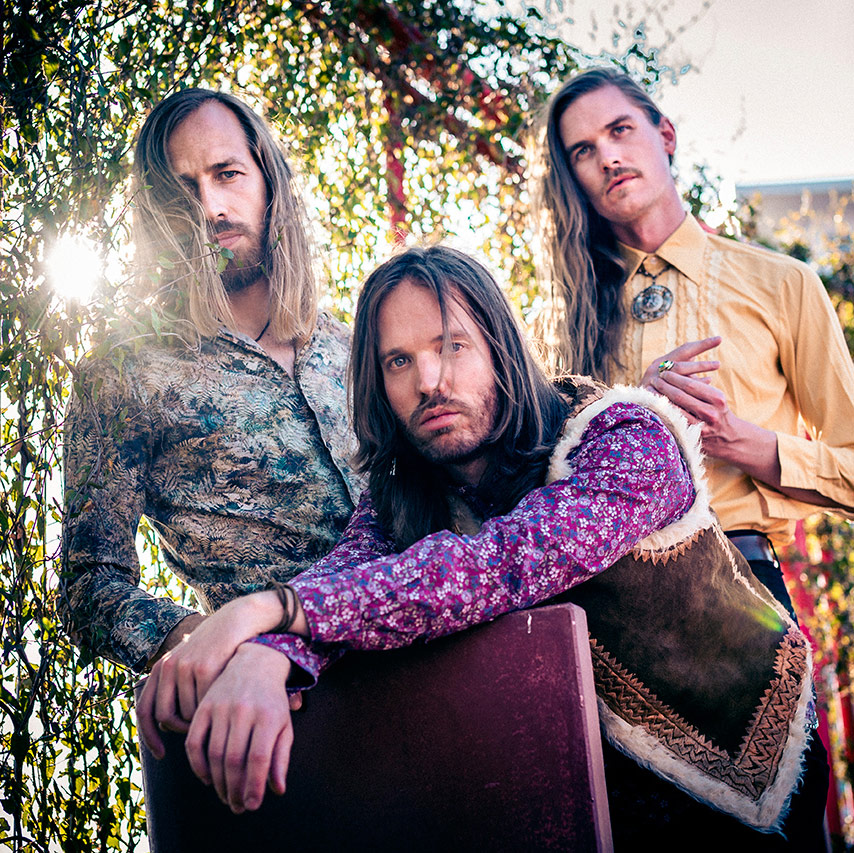 The rays of The Sonic Dawn are like a reminder that reality is only temporary. Flickering between light and darkness, their sound burns with an intensity that places the Danish trio among the top psychedelic acts of their time.
Following their first two album releases, The Sonic Dawn have toured Europe more or less constantly. Recently they supported desert rock legend and label mate, Brant Bjork, on 15 tour dates, only returning home to focus on their biggest work to date:
The Sonic Dawn's third full-length «ECLIPSE» is the product of a full year's labor, with all 13 tracks carefully selected among over 40 candidates. Inspired by personal events and the current meltdown of the world as we know it, the songs deal with a feeling of despair that many will recognize, but also seem to say that we can heal and come out stronger, if we dare take the leap. The result is a cinematic journey in sonic technicolor. Here, even the catchiest melody casts a mysterious shadow, and every mind altering solo is torn out of Emil Bureau's guitar as if it owed him money.
Eclipse is released Feb. 1st 2019 on Heavy Psych Sounds. It follows after Perception (Nasoni, 2015) and Into the Long Night (Heavy Psych Sounds, 2017) which gained the group a place in the hearts of many acid rock fans. Both albums have been reissued on vinyl and CD.
The Collection
Previous studio releases
Click play on each release to listen. Shop records and merch on Bandcamp.
The Audiophile Ed.
Perception is back with a vengeance
With its analogue remaster and fresh cut, straight out of Abbey Road Studios in London, Perception has never sounded better. Originally released by Nasoni Records in 2015, The Sonic Dawn's debut LP has been sold out for a long time. This new Audiophile Edition not only presents the album with a new analogue mastering and crystal clear cut, providing the best possible listening experience of Perception, but also presents the album on 180g black vinyl for the very first time.
Available on LP and CD as well as streaming/download exclusively via Bandcamp. Order via Bandcamp or ask in your local record shop.
The Good News
Stuff you really should know
Merch discounts, tour dates in your area, presales, party invitations... Be the first one to know by signing up to the GOOD NEWS. Expect 4-6 emails yearly. Good stuff only!