"possibly the next big band of the current retro rock wave"
"a middle finger to the 'get a haircut and get a real job' generation"
"Let the trip begin"
The Band
Psychedelia from Copenhagen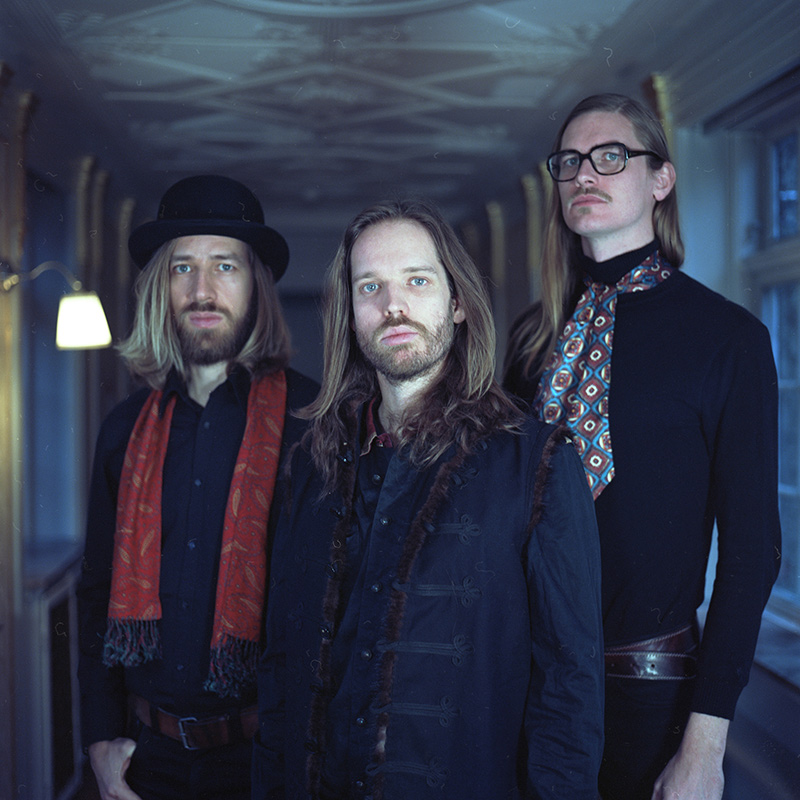 The Sonic Dawn is a trip – a psychedelic mixture of styles, from jazzy sitar pop to heavy acid rock. Expect melodic songs with a 60s flavor, laced with dreamy vocals and delivered with an explosive stage presence.
Since their acclaimed album debut, Perception from 2015, The Sonic Dawn has established themselves as the most prolific and succesful contemporary, psychedelic group out of Denmark. They have toured the European continent numerous times and have recently appeared alongside acts such as Graveyard (SE) and The Black Angels (US). Perception, sold out long ago, is available in a new Audiophile Edition from late 2017.
Into the Long Night (2017) is the trio's second full-length. Written by day and recorded at night during a month of complete isolation by The North Sea, it is as light and gracious as it is dark and mysterious. The journey has just begun.
The Tour
European Concert Dates 2018
29 Jun. 2018

NO

Krøsset, Oslo.

30 Jun. 2018

NO

Bastard, Tromsø.

05 Oct. 2018

NO

Tribute, Sandnes.
Sign up for the GOOD NEWS to know about concerts in your area.
The Album
"Into the Long Night" (Heavy Psych Sounds, 2017)
"Denmark is entering the world market for psychedelic drugs."
"as if The Beatles had reinvented themselves as a blues band in their psychedelic phase"
"well set to be the record of the year 2017"
Into the Long Night is the second album by The Sonic Dawn from Denmark. Just a few seconds into this album, you will realize that you are in for a mind altering experience.
To achieve the dramatic changes of mood and feeling that The Sonic Dawn excel at, they mix a wide range of styles, from jazzy sitar pop to heavy acid rock. A pleasant-sounding analog production makes the album easy to approach, not to water it down, but rather to pull the unsuspecting listener into the deep.
The songs were written by day and recorded at night, during a month of complete isolation in a remote house by The North Sea. The tracklist can be interpreted as a trip through the night, into a new dawn. Close your eyes and see it: Go through the hill country with its long yellow grass, to the beach where the setting sun dances on the cold waves. Slide into the darkest hours, alone with your thoughts and doubts. Suddenly come the first blue rays, separating past from present, before a golden dawn is born and everything takes its right shape, perhaps for the very first time.
Into the Long Night was made in collaboration with some of Scandinavia's most regarded personnel. It features Swedish Hammond legend Erik 'Errka' Petersson on keys and Morten Grønvad on vibraphone/perc., which adds to its soundtrack-like qualities. Mixed in The Village Recording with jazz producer Thomas Vang (Oscar Peterson, Randy Brecker etc.). Mastered in Svenska Grammofonstudion with Hans Olsson Brookes (Graveyard, Blues Pills, José González etc.).
Nine tracks, 36 minutes and 22 seconds. Released by Heavy Psych Sounds on April 21st, 2017.
Available on LP/CD and all digital platforms, including Spotify, iTunes, Deezer and Amazon.
The Mini Docu
A film by Bolette Søs
Mini documentary by the Danish filmmaker Bolette Søs, about The Sonic Dawn's efforts to create their own psychedelic sound. The film captures a day of recording sessions for Into the Long Night, during the band's one-month hiatus in a remote house by The North Sea.
Danish with English subtitles.
The Collection
Previous studio releases
Click play on each release to listen. Shop records and merch on Bandcamp.
The Audiophile Ed.
Perception is back with a vengeance
With its analogue remaster and fresh cut, straight out of Abbey Road Studios in London, Perception has never sounded better. Originally released by Nasoni Records in 2015, The Sonic Dawn's debut LP has been sold out for a long time. This new Audiophile Edition not only presents the album with a new analogue mastering and crystal clear cut, providing the best possible listening experience of Perception, but also presents the album on 180g black vinyl for the very first time.
Available for streaming/download exclusively via Bandcamp. Available on LP and CD from December 2017. Order via Bandcamp or ask in your local record shop.
The Good News
Stuff you really should know
Merch discounts, tour dates in your area, presales, party invitations... Be the first one to know by signing up to the GOOD NEWS. Expect 4-6 emails yearly. Good stuff only!